1. Breaking up is hard to do… Larry Ginsberg was busy this week… He represents Baywatch star Pamela Anderson, who officially annulled her marriage to Rick Solomon on Monday. Documents cite fraud as the reason for end of this marriage, which only lasted from October 6th to December 13th.

2. Laura Wasser, who represents Philip John Clapp (better known as Jackass Johnny Knoxville) also had divorce papers to deal with. Knoxville split from his wife Melanie Lynn after 11 years of marriage. She is represented by Ronald Rosenfeld. The "jackass" filed for divorce last July citing irreconcilable differences.
3. Robin Williams once said "Ah, yes, divorce, from the Latin word meaning to rip out a man's genitals through his wallet." He's probably not laughing so much about now… His lawyer Robert Kaufman of Beverly Hills reported that Williams split with his wife of 20 years due to irreconcilable differences. His now ex-wife, Marsha Garces Williams, should have thought twice about her vows after Williams said in his comedy act "I'm looking for Miss Right, or at least, Miss Right Now".
4. Time to face the music. Gibson Guitar Corporation, represented by F. Leslie Bessenger, sued Wal-Mart, Target, Kmart, Amazon and other retailers this week that sell the Activision Incorporated's "Guitar Hero", claiming the game infringed it's patent. Activision's lawyer, George Rose, said "We disagree with the applicability of their patent and would like legal determination on this."
5. What would you rather: English or Incarceration? Luzerne County Judge Peter Paul Olszewski Jr. sentenced three Hispanic men to 24 months in prison for conspiracy to commit robbery. They can, however, avoid the jail time if they agree to learn to read and write the English language, earn their GED, and, within 30 days of release, get a full time job while on parole. If they don't complete all these tasks in a years time then they will serve the 24 months. The Judge said "The ruling is supposed to help, not punish." Attorneys representing the suspects (and translating the judges ruling for them) Joseph Yeager and Ferris Webby, were pleased with the outcome.
6. And finally, what would Lawyers in the News be without a little rap? Kanye West is being sued this week over allegedly sampling a 1985 song for his hit single "Good Life". Dayna Staggs (aka D'Mystro) is suing Mr. West and his record label, Roc-a-fella, for copyright infringement. The presiding judge is Peter Messitte. D'Mystro says he wrote the song when Kanye was only 6 years old. He says he's offended by the vulgarity of "Good Life" and that the image painted by the song damages his reputation. He's seeking 85% of all sales connected to the sample Kanye stole.
March 21st, 2008 by Amanda
1. Head over heals. Lawyer, Stephen Ateshoglou is representing Stephen Chang in a lawsuit filed this week against "Hot Lap Dance Club" in Manhattan. Chang, a securities trader, sustained "serious injuries" when the stripper who was giving him a lap dance spun around and kicked him in the eye.
2. Manhattan Criminal Court Judge Larry Stephen sentenced Trevor Smith (better known as Busta Rhymes) this week to three years probation for assaulting his former driver. The rapper was also ordered to perform 10 days of community service, pay a $1,250 fine, and enroll in a drunken driving program. Scott Leemon, Busta's Lawyer, said a private agency called Rock Corp. will work out the community service program.
3. Oprah's army revolts! Winfrey's lawyer, Chip Babcock, has a lot on his plate this week. Orit Greenberg filed a lawsuit against Harpo Studios claiming she sustained "severe and permanent injuries" when she was pushed down the stairs during a stampede at a filming of the "Oprah Winfrey Show" back in 2006. Also this week; another one of Oprah's army, Darlene Tracy, filed a lawsuit against Ms. Winfrey, claiming the idea for "Oprah's Big Give" was stolen from her.
4. Michael Grieco, who represents actor Mickey Rourke, was in court this week. Rourke, star of the movie "Barfly", was arrested last November for reckless driving on his vespa in Florida. The police report says that when the officer approached him Rourke got off his scooter stating "What the *#% did I do?" The cop observed a flushed face, watery eyes, slurred speech and a strong odor of an alcoholic beverage on his breath. Mickey then stated "I'm not drunk, I didn't even drink that much." This week Rourke pleaded guilty to reckless driving and was sentenced to six months probation, and 50 hours of community service (which he can choose to buy off at $10 per hour). Grieco, said "The only thing he has to do is take an online driving course."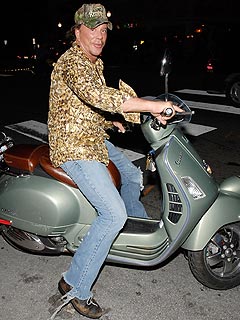 5. Can't buy me love. Gloria Allred, who represents Heather Mills, feels her client was mistreated during her divorce battle in London. Mills was awarded $48.6 million on Monday in her settlement from Beatles legend Sir Paul McCartney. The Judge residing over the case said that Mills was a "less than impressive witness" and that she was "not just inconsistent and inaccurate but also less than candid." Allred has represented other celebrities, such as Nicole Simpson's family and Britney Spears' bodyguard. Back in 2002 Allred criticized Michael Jackson's parenting skills to which MJ replied "tell her to go to hell".
6. Real life Law and Order. Ravi Batra, a New York attorney, is suing the creators of "Law and Order" for an episode depicting a mirror image of himself. The show was about a "bald Indian-American Lawyer" called "Ravi Patel" who bribes a Brooklyn Supreme Court judge. Batra has never been charged with bribery and says that his reputation was affected by the bad press. He is suing for $15 million. Davis Wright Tremaine is representing Wolf.
7. (Non-Lawyer) Fun facts about March Madness! Challenger, Gray & Christmas, an outplacement consulting organization in Chicago, estimates that the NCAA will cost businesses $1.7 billion in wasted work time over the 16 business days of the tournament. It is possible that 37.3 million workers will participate in office pools and 1.5 million will be watching games on their computers at work (which can slow down the company's computer network). It's a wonder how anyone gets anything done when there is basketball to watch!